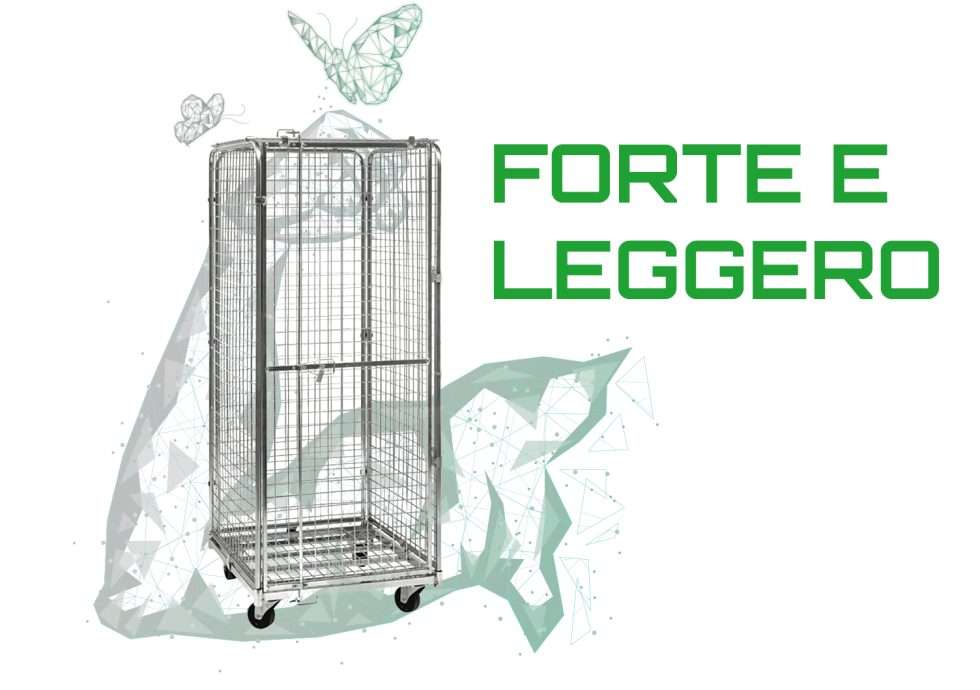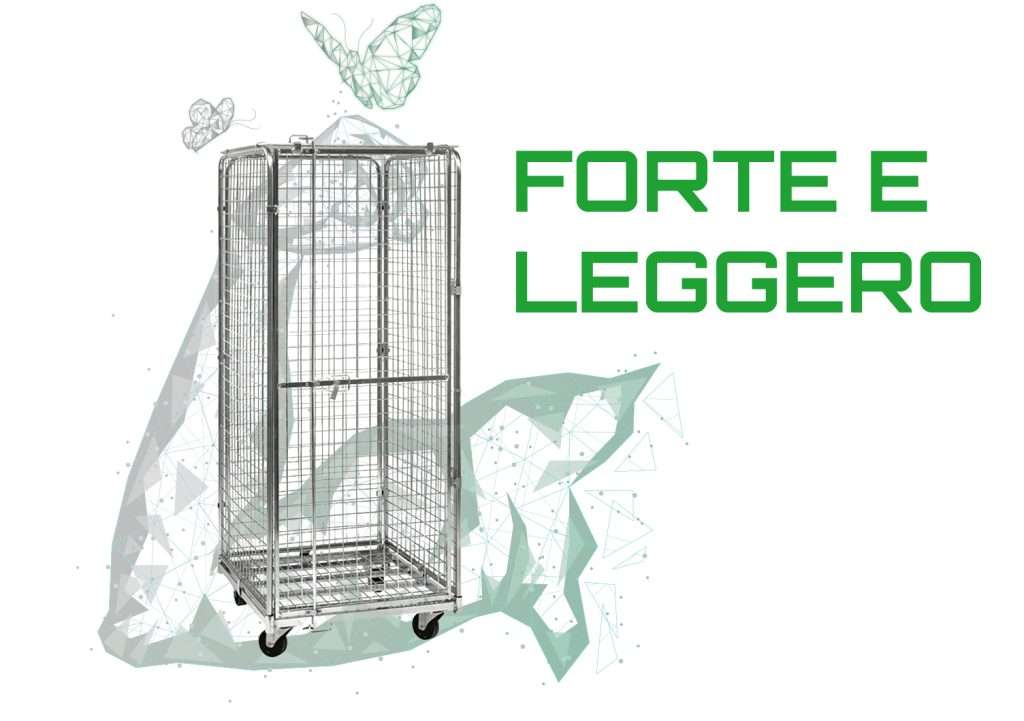 Italiana Contenitori has been producing wire mesh containers since 1981 and offers a catalogue so extensive that it covers every market requirement for the storage and handling of goods, and precious goods are no exception. Today we talk about Roll Containers, in particular the ROLS1200 model and its variants, an intelligent solution for the transport and storage of high-value products.
As the code itself indicates, the focus of this product is on safety. ROLS1200 is a roll container designed to have a tight anti-theft mesh, is ideal for storing and handling valuable goods, and offers secure protection against attempted theft. The roll container is made of electro-welded wire mesh and is equipped with a solid, lockable front door. The tight mesh of the walls not only makes the illegal removal of the goods inside obvious, but also makes the structure particularly strong and solid, without resulting in excessive weight. The great sturdiness of the ROLS1200 is proportional to its lightness and handling, and it will soon prove to be a valuable ally even in the most demanding situations for transporting and displaying valuable products.
Mobility is one of the strengths of this roll container: thanks to its optimised dimensions and light structure, it can be easily loaded onto any means of transport. ROLS1200 is available in three different heights, and is designed to adapt to different storage and transport needs. For example, the one-metre high version is often used in the pharmaceutical industry, the 1.5 metre version is frequently found on vans, while the taller and more capacious 1,800 mm version is used in TIR transport or for storage in warehouses. Whichever version best suits your needs, you will be surprised by its handiness that allows you to move it easily from one place to another, ensuring smooth and efficient transport.
Strength and durability are further advantages offered by this roll cage. Made of high-quality wire mesh, it can withstand daily stress and usage without compromising its functionality. Its sturdy construction makes it a reliable long-term investment, reducing replacement and maintenance costs.
Speaking of economy and efficiency, a distinctive aspect of the ROLS1200 is its ease of disassembly. Thanks to its clever design, it can be disassembled and reassembled without the use of any tools, reducing the space requirement to one fifth of the assembled product. This feature is particularly useful when it is necessary to transport empty roll containers, or during return trips without a load: the compact dimensions of the dismounted container guarantee efficient logistics and allow optimal use of available space.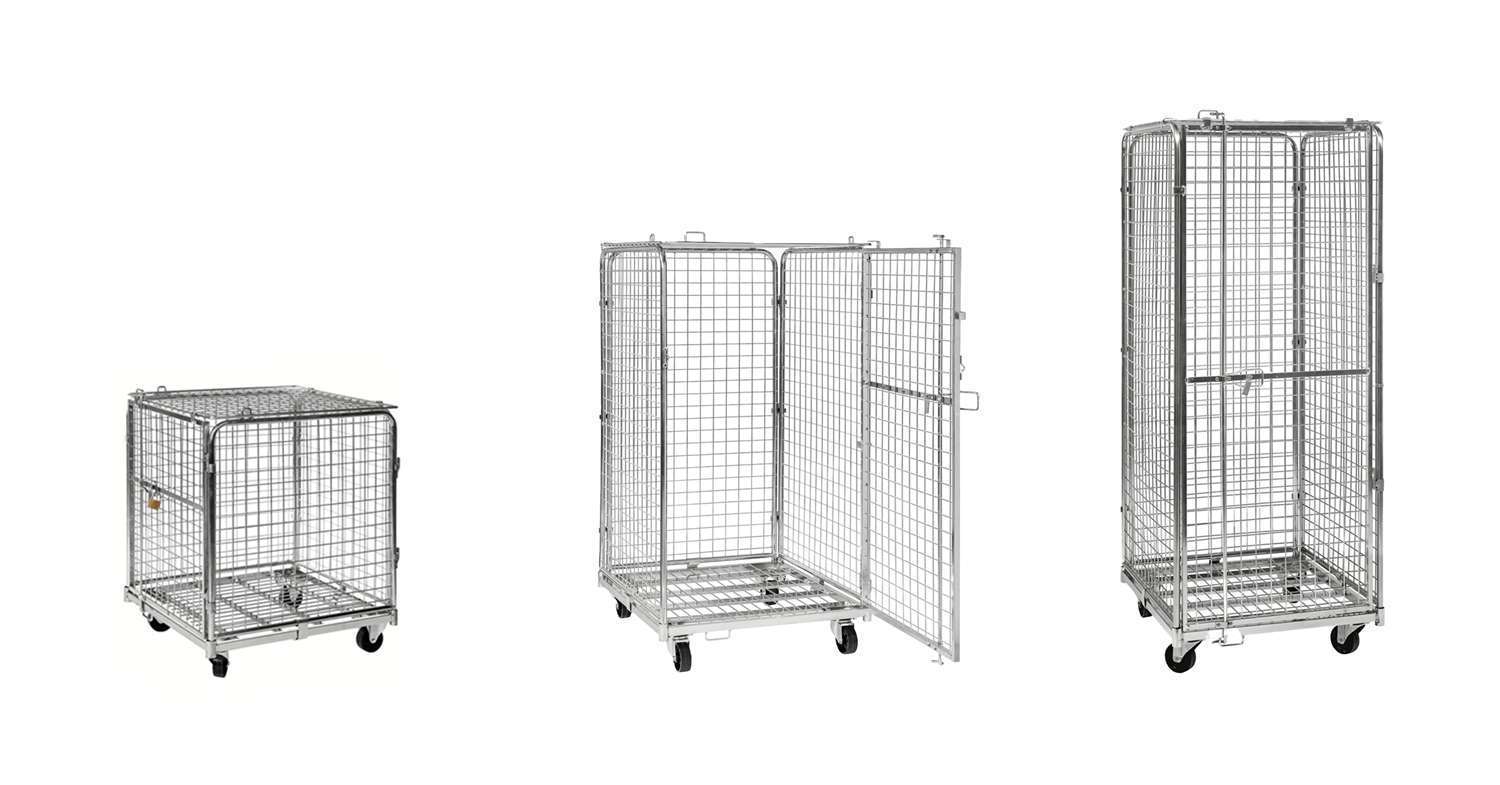 A separate chapter should be devoted to castors: Italiana Contenitori offers various models and materials with specific characteristics for different uses and environments. For each kit, wheels can be configured to be fixed or swivel (in pairs), with or without brake.
The Standard kit consists of four polypropylene castors, two of which swivel, with a maximum load capacity of 400 kg.
The Silent Kit is ideal for healthcare environments, hospitals and care homes As the name implies, this kit is designed for smooth and creak-free movement when moving. The wheels are made of rubber and the maximum charge weight is 400 kg.
The intense kit is designed for heavy use and offers strength and wear resistance even over considerable distances. The strength of this nylon wheel set allows for handling even in outdoor and rough environments. Again, the maximum allowed load is 400 kg.
The Forte Kit is obviously the one that offers the greatest strength and load-bearing capacity. The nylon-polyurethane wheel set offers strength and durability even for transporting heavy material over long distances. The maximum allowed load is an impressive 600 kg.
We would like to conclude by reminding you that thanks to the tightly meshed anti-shoplifting net, it is possible to insert removable shelves with a minimum pitch of 50 mm, so that the full volume of the roll can be used, even for transporting small parts and items. Thanks to its anti-theft capacity, ease of movement, strength and durability, as well as the possibility of demountability without tools, Italiana Contenitori's ROLS1200 is a reliable solution and an excellent long-term investment for the safe transport and storage of valuable products.